This is a sponsored post written by me on behalf of Sprout Organic Foods. All opinions are 100% mine.
Over the last few years I've become more conscious of what my family eats. I don't know about you, but I want to know exactly what's in my food. This is the same for what my baby eats as well.
Aric started eating purees at about six months old. He was still getting breastmilk but was showing interest in solids. Now this wasn't my first rodeo when it comes to infant feeding. With E, as a new parent I was a little unsure of what to feed her. Through some research, I discovered the many options out there and different ingredients in certain brands. When I had Aric, I was better prepared and knew what to look out for when introducing new foods. You might be wondering how to choose foods for your little one. Here are a few tips on picking food that is real, honest, and pure.
Tips for Picking Baby Food That's Real, Honest and Pure!
Look for foods with organic ingredients! Organic foods are grown without the use of artificial chemicals.
Make sure that food you choose provides a balance of fruits, vegetables, whole grains, and proteins.
Avoid foods with preservatives, additives and concentrates.
You'll want to pick food that doesn't contain GMOs (genetically modified organisms). Look for food that is labeled GMO-free.
Sprout Organic Baby Foods
Research has shown that developing a love of healthy foods early on helps foster healthy eating habits for life. This is why Sprout is committed to providing the best nutrition and uses only certified-organic, non-GMO ingredients like whole fruits, vegetables and grains. Sprout's Honesty Pledge communicates the company's commitment to transparency and honest labeling, using non-GMO ingredients, and using only real, honest, and pure ingredients in their recipes. Sprout Pouches are committed to:
Whole Fruits, Vegetables & Grains
No Concentrates
Non-GMO
No Preservatives
Sprout Pouches and snacks are committed to:
Whole Fruits, Vegetables & Grains
Certified Organic
Non-GMO
You can read more about Sprout's Mission & Values on their website.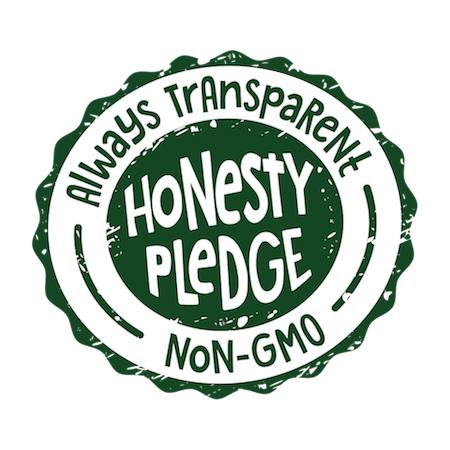 As a mom, I value Sprout's is commitment to only using whole fruits, vegetables and grains. It also gives me a piece of mind that Sprout only uses ingredients like those that would be found in your own kitchen so no preservatives, concentrates or anything artificial! This is in addition to being GMO free. I also appreciate that the flavor names I see on the front of the pouch are the same primary ingredients on the back label. Go ahead, flip your baby's Sprout pouch over and see for yourself!
Something interesting that I was recently made aware of is that leading competitors primarily focus on only two flavors which include apple or pear. Unlike it's competitors, Sprout offers delicious blends of whole fruits, vegetables, and grains, giving babies greater exposure to wholesome foods.
New Sprout pouch flavors!
My little man is loving the new Sprout pouch flavors which include Mango, Spinach Banana Apple, Blueberry Banana Oatmeal, and Pear Spinach Prune. Aric has tried them all and isn't picky but I know the Mango and Blueberry Banana Oatmeal are his favorites! I'm lucky that he's willing to explore new foods but to be honest, The taste is something every baby will love!
I'm also the type of person who tries everything before giving it to my baby (yes, even baby food). In my opinion, these pouches are delicious. They're definitely mom approved!
Sprout pouches are also perfect for on-the-go! We live a busy lifestyle and it's great being able to toss one or two in my diaper bag or stroller for Aric to eat.
Keep it Honest, Make it Real. Head over to the Sprout website today and find out Where to Buy Sprout Organic baby food pouches. Don't forget to download Sprout Coupons for Buy one, Get one FREE so you can try the new Sprout pouch flavors!
Which new Sprout Organic baby food pouch flavor do you think your little one will enjoy?
Related posts:
Comments
comments